Edwin P. Baldry is CEO and co-founder of EPBComms, an international enterprise that connects the worlds of business communications and financial technology. A pioneer in the fintech sector, Ed was a co-founder and the head of Global Sales for Institutional Cash Distributors (ICD), a SaaS-based liquidity trading platform providing services to many of the biggest corporations worldwide. Ed and his partners propelled ICD to the top of the institutional marketplace, helping make it the world's largest independent money-market fund portal with more than $200 billion in assets under management. Previously, he served as director of the Institutional Money Fund business at Deutsche Bank/Scudder.
Prior to his financial career, Ed worked the stage as a stand-up comedian in San Diego. He has now transitioned to slightly more serious public speaking (which he deems "corporate stand-up") in the treasury/fintech industries.
Get to know this sales vanguard better by tuning into his podcast, EDTalks.
Read Ed's interview in Authority Magazine ("How to Be Great at Sales Without Seeming Salesy") here.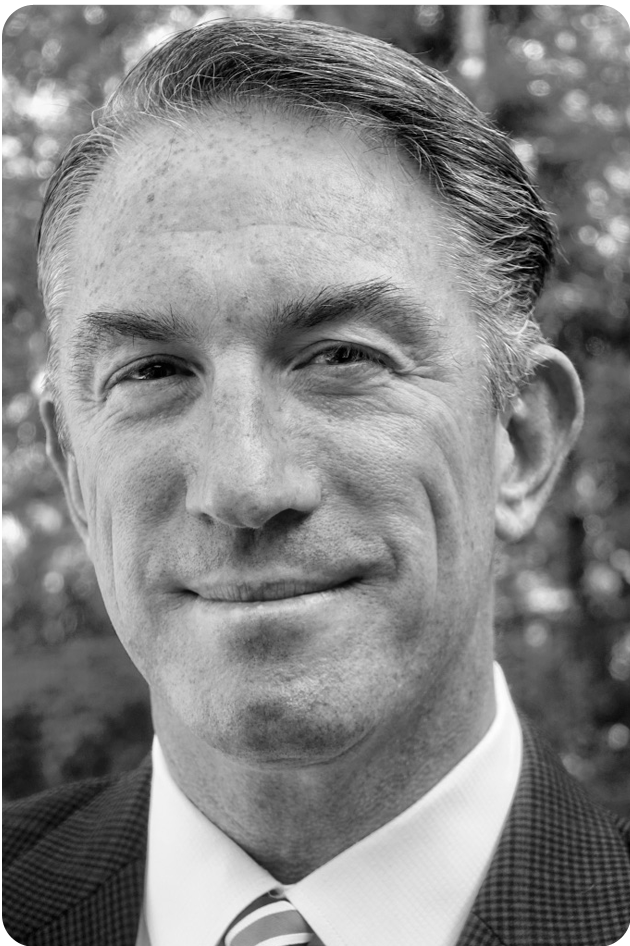 Start Reading Now
Subscribe below and start reading chapter 1 of It Begins with Please and Doesn't End with Thank You now.
WHATEVER HAPPENED TO "PLEASE" AND "THANK YOU"?
We live in a world where respect, gratitude, and appreciation have been replaced by efficiency, dismissiveness, and even fear of genuine connection. Sometimes, we don't stare up from our screens and devices long enough to realize there is even another person on the other side of the tweet or email. "Is anybody out there?"
One thing is for sure: this speed of life has taken a toll on our basic use of good manners and etiquette. Nowhere is this more apparent than in the decline of professional business communications. But manners and etiquette can be a powerful tool for business and sales success. It Begins with Please and Doesn't End with Thank You will show you how to regain those tools and techniques of bygone eras and update them for the digital today.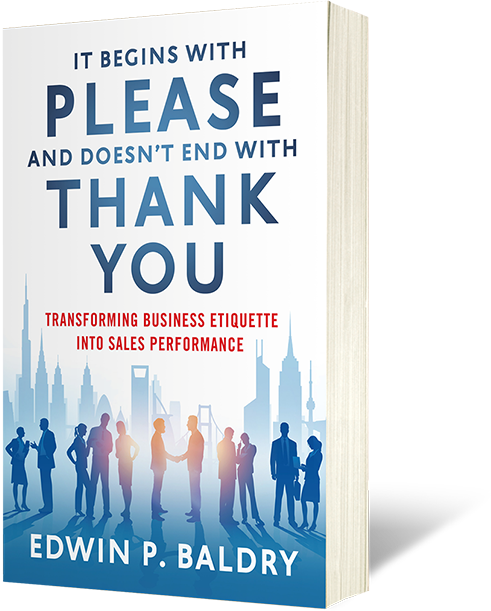 This how-to guide and go-to resource takes the concepts of "please" and "thank you" into every realm where you engage with clients and prospects—from your first hellos and emails, phone and video calls, to conference rooms and restaurants. With his "return to the personal" philosophy, sales veteran Edwin P. Baldry breaks down the practices, principles, and protocols for successful business dealings and relationship-building. Via tips, tools, and humorous tales, Baldry shows how to tap into the often-overlooked power of manners to improve your business relationships, and how to transfer etiquette into sales performance.
It Begins with
PLEASE
and Doesn't End with
THANK YOU
Transforming Business Etiquette Into Sales Performance
Buy Your Copy Now
Available at the following retailers
testimonial11
It's very possible that those who follow Baldry's advice may not only reshape their professional lives, but also their company's culture. A treasure trove of empathetic professional wisdom.
KIRKUS REVIEWS
testimonail12
It Begins with Please and Doesn't End with Thank You is a thorough and charming guide to getting ahead in sales. … Its advice was drawn from Baldry's long career in sales and is punctuated with unexpected humor, resulting in light-hearted clarity when it comes to topics like developing courtesy, consideration and amiability.
FOREWORD CLARION
testimonail13
Fantastic read for anyone who wants to sharpen their business etiquette/manners and jump ahead in the line. Funny and insightful! You will start incorporating these ideas/skills immediately and see the results.
Darryn Mackenzie
VP of Sales, Jet Edge International
testimoanil15
As a former sales trainer and lifelong salesperson, I found the book a great recap on the sales processes with a new twist with the pandemic protocols we are all facing. Good sales manual to keep on hand and review often.
John Salamida
First VP, CBRE
Testimonial 17
Any organization with a sales team should "PLEASE" make this a must read!
Michael Campbell
EXVP, Dir. of Treasury Management, Zions Bancorp
testimonail 16
This is a book every college graduate or aspiring professional should read. The advice is powerful & timeless.
Gary Gadsden
SVP Sales, Element Fleet Management